Distributors for FLUKE METERS CLAMPS AND ACCESSORIES
Call: 414-327-1555

Fax : 414-327-0577
Email: indelect@execpc.com
Catalog, Quote, Availability.

Accessories
Fluke TL24 63"Right Angle/Straight Silicone Test Leads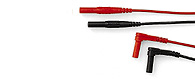 Features at a glance:
385 internal strands for flexibility prevent kinks and bends in test leads; superior strain relief is also provided.
Silicone-insulated test leads have superior flexibility and cold/heat resistance from -80°C to +150°C (-112°F to +302°F). Won't crack from cold, or melt from accidental contact with soldering iron. Good chemical and tear resistance.
Safety-designed with double insulation for added protection.
All metal on banana plugs is capped and shrouded to prevent accidental contact.
Extra-long length of 63" (1.6m). 1000V per IEC 1010, Overvoltage Category III (Heavy Industrial Rating), 10A rating. UL 1244 Listed.
Compatible with all meters accepting safety-shrouded, standard-sized banana plugs. One red, one black, 63" ( 1.6 m). Best suited for test clips with plunger-style jaws.
Shrouded, straight connector on one end.

More Info...
© 2007 Fluke
Industrial Electronics By Ross LLC