Welcome to Philmore Products
CB and Two-Way Radio Accessories

COMMUNICATION MICROPHONE, dynamic Model no. CM43A.
For use with two way radios such as CB, business or Amateur Radios. Four wire plus one shield six foot coiled mike cord. May be used for either relay or electronic switching rigs. Tough, high-impact plastic case and PTT switch, color: black. Frequency response is 100 to 10,000 Hz, sensitivity is -70db and the impedance is 500 ohms. Moderate price and good performance.


S.W.R BRIDGE, POWER AND FS METER model no. FS45
Modestly priced for a unit that may be used up to 150mHz, measure both S.W.R. (standing wave ratio) and field strength. Compact size: 5-1/4"H X 2-1/4"D X 1-15/16". Measures power in two ranges, 1/2 to 10 watts and 100 watts. Field Strength (FS) antenna included.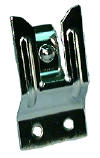 MIKE-CLIP, or microphone hanger/holder.
A stainless steel clip that can be attached (with sheet metal screws, included) to dashboard of car, side of radio, shelf in Ham shack etc. to hold a hand mike when it is not in use. Mounting hardware is included. Holds fast during off-road too.
Part no. HS200SS

replacement RADIO and SCANNER MOUNTING SCREWS

Large thumb-screw mounting screws, typically found with mobile radios. Three sizes are available and they are packaged two per part number (i.e. order one of the part number and you will receive one package of two screws). These are machined brass with a nickel plate. Threaded part is 3/8" long. Three different diameters are available.

| | |
| --- | --- |
| Part no. | Size |
| K40 | 4mm |
| K50 | 5mm |
| K60 | 6mm |

For fuses, in-line fuse holders etc. for use with mobile radios, be sure to see the "fuses" page.
© 1995-2007Industrial Electronics By Ross LLC
© 2003-2007 Sites Updated, Maintained & Promoted By : Synchrosys