Welcome to Philmore Products
Datak Products Page


Link to: Printed Circuit Instructions for Positive Boards.
Link to: Printed Circuit Instructions for Negative Acting Resist.
Datak has been a major supplier of Printed Circuit artwork creation materials and products for making prototype PC boards for decades. Other Datak products are listed here as well.....we hope that you will take a moment to look. Locations


Datak Premier Series Positive-acting, pre-sensitized boards with a resist that responds to a standard Edison light bulb and develops flawlessly. Boards available in many sizes, copper on one or two sides. Most Premier boards are standard 1/16" thickness with one ounce of copper. New sizes include two ounce copper and the extra thin 1/32" thickness types. See the 14-series part numbers in the Datak catalog. Premier boards are developed with a mild base solution and all of the developing materials may be flushed safely down your sink drain. (Developer is similar to the product Drano, but considerably diluted.) Dielectric Constant: 3.6 (at) 1 MHz.
SEE BELOW for a list of stocking locations that will sell via a telephone call.

Datak Negative Acting , pump spray photo resist for coating copper boards for making Printed Circuit boards. This spray makes it possible for you to coat your own PC boards, any size or shape. Look into Datak no. ER-71 Photo Resist Sensitizer. DATAK Etchant, developers, Tinnit for tin plating PC boards, and other chemicals and tools for your prototype or small run production may be seen in the Datak catalog.
Part no. ER-71 Spray bottle Negative Acting Photo Resist.
Printed Circuit Instructions for Negative Acting Resist.

Datak Direct Etch dry-transfer decals. This series of decals can be "rubbed-down" direct

ly on the copper to act as an etch resist. Patterns for all industry components are available. The patterns may also be used upon clear film or paper to create "positive" artwork.
JOTDRAFT Printed Circuit Component Patterns for creating printed circuit artwork the "old fashion way", consists of component footprints on clear film backing that can adhere to a larger sheet of film to create positive artwork.

DAT

AK Flexy Markers Wire Marker sets. Available in hundreds of sets from alpha and numeric to colors and customized titles, Flexy Markers may be used on all popular wire sizes (use on wires ranging from 0.35" to 1.125" diameter). Colors available too! Resistant to oils and age; one size marker fits a vast range of wire sizes!


Datak Protoboards. Small to medium-large PC boards, drilled to 1/10" centers and ready for the mounting/soldering of electronic components for your experimental circuits. One side is the copper pattern; the component side is silk-screened so that you won't have to guess where the copper traces run. Shown to your left is a small board for DIP IC's. There are different layouts for nearly any circuit imaginable. These boards are shown in both the Datak and Philmore catalogs under the Prototype Boards heading.

KITS, both useful and fun. DATAKITS are circuits for Do-it-Yourself assembly and the selection ranges from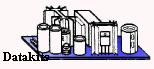 FM Microphone "bugs" to audio amplifiers, timers, remote IR relays, power supplies and more. Useful and educational; teachers will definitely want to consider these as classroom aids to teach fundamentals of soldering and circuits. Hobbyists and experimenter must see these. About 65 kits are available; with more on the way. See the Datakits in either the Philmore or Datak catalogs.
DATAK Custom Dry-Transfers for company logos, panel and meter markings, and even sales promotions. Datak can custom manufacturer "rub-down" (dry-transfer) decals with your company logo or slogan or just about any pattern or wording that you can imagine. Cost and Quantities are not prohibitively high. Contact the factory for some detailed information (and see the Datak catalog for specifics).
Some, but probably not all, Datak products are IN STOCK at the locations on our.
All listed distributors can order Datak products for you (except Custom Dry-Transfers, contact factory for those). Datak PC Board products and kits are in stock at the distributors shown below. 11112m3

TINNIT TIN PLATING Kit.
Tinnit will plate a copper clad board with a bright, protective tin plate approximately .0004" thick. Enhances solderabilty, resists oxidation and provides a professionally appearance.
Supplied as a dry concentrate, kit contains enough to plate approximately 600 sq. inches. Kit includes a 16 oz. bottle for storing Tinnit between uses. Tray and handling tool included; you may wish to wear plastic gloves.
Tinnit® Kit Complete no. 12-800
Tinnit® dry-Concentrates only 1 pint size no. ER-18
Tinnit® dry-Concentrates only 1/2 gal. no. ER-181

FERRIC CHLORIDE ETCHANT follow this link for more information.
© 1995-2007Industrial Electronics By Ross LLC
© 2003-2007 Sites Updated, Maintained & Promoted By : Synchrosys