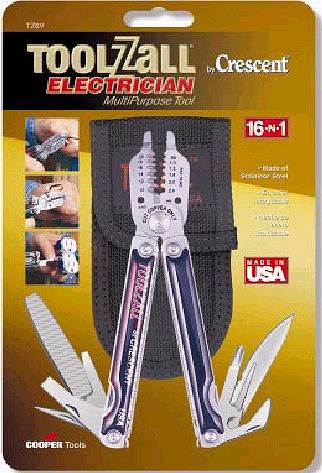 ToolZall® Electrician features 16 tools of the trade
The Crescent ToolZall® Electrician multipurpose tool is the perfect compact combination of tools for electrical work.
It features:

wire stripper for 20 to 10 AWG wire,
needle-nose pliers,
wire bender,
wire cutter for copper, aluminum, and other soft wire, so it can handle common electrical tasks with ease.
The ToolZall® Electrician also includes:

small, flat head screwdrivers,
medium, flat head screwdrivers,
large flat head screwdrivers,
Phillips screwdriver,
serrated drop point knife,
ruler,
wood and metal files,
and many other useful tools.